You can create as many catalogues as you want with Advanced CATaloguer Pro. It is possible to create a new catalogue using the File|New menu item.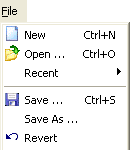 If you already have a catalogue opened and it was modified since the last save operation, you will be prompted to save it again.
To save your catalogue, use the File|Save menu item. If you would like to keep a catalogue under another name, use File|Save As. To open an existing catalogue, use File|Open.
You can revert to the last saved version of your catalogue. This function is useful if you tend to save your file whenever you are satisfied with the latest changes in your catalogues. To undo all changes since you last saved, use File|Revert.
Go Home