For work with categories choose the tab Categories. This tab can be displayed or hidden using the toolbar button Categories (

) or menu item View|Categories.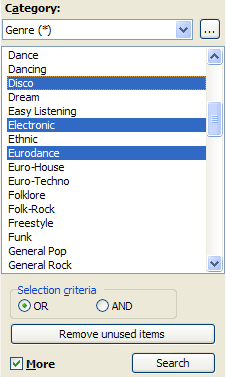 When editing categories use the editor for categories (

).
Selection criteria - Determines a mode of search, if more than one item is chosen.
Remove unused items - Allows you to remove all items that are not assigned to files.
For searching of files, choose the necessary items and press the Search button.
For adding, renaming or removing of items use the popup menu or hotkeys:

Go Home