Sometimes you need to find a particular file or folder, or a list of files and folders, in your catalogue. It is very easy with Advanced CATaloguer Pro - Select tab Search. This tab can be displayed or hidden using the toolbar button Search (

) or menu item View|Search.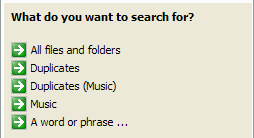 All files and folders
Duplicates
Duplicates (Music)
Music
A word or phrase ...
Notes: If you get too many results, try using additional search criteria to make your search more specific.
Go Home