This tab is responsible for the settings use by the process of synchronization.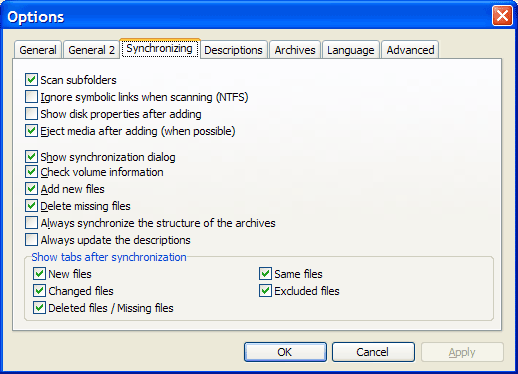 Ignore the symbolic link when scanning (NTFS) - Contents of symbolical links will be passed while scanning. This can be convenient if you have folders referring to each other in a tree.
Show disk properties after adding - When this option is checked the disk's properties will be displayed after it has been added. This can be necessary for you to change the name, the assignment of a comment, etc.
Eject media after adding - Allows the ejection of media after adding files (when possible).
Use Show synchronize dialog to change options each time at the start of synchronization.
Check volume information - Checks serial number, the label and file system of the volume.
Add new files - Allows adding new files.
Delete missing files - Allows deletion of files that are not found, from the catalogue.
Always synchronize the structure of the archives - If this option is not checked, either the size or the date of modification of an archive must change for the scanning of the structure to occur.
Always update the descriptions - If this option is not checked, either the size or the date of a file must change for the re-creation of descriptions to occur.
You can decide what files will to show after synchronization. For this purpose use the option Show tabs after synchronization.
Go Home