If the files and/or folders on a disk which is listed in your database have been changed, you may wish to update the information in the catalogue. Select the files or folders you want to update and select Edit|Synchronize from the menu, click the Synchronize button (

) or press the CTRL+R key.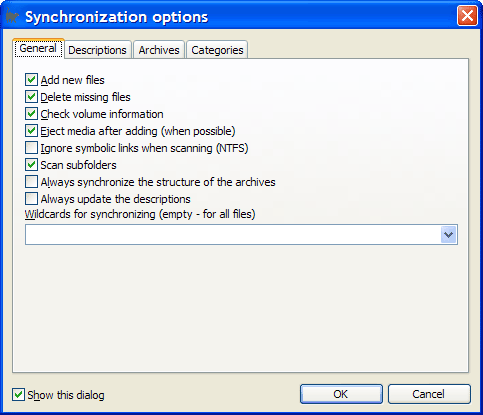 Add new files - Allows the addition of new files.

Delete missing files - Allows deletion of files that are no longer found, from the catalogue.

Check volume information - Checks the serial number, the label and file system of a volume.

Eject media after adding - Allows ejection of removable media after adding (when possible).

Ignore the symbolic link when scanning (NTFS) - Contents of symbolical links will be passed while scanning. This can be convenient if you have folders referring to each other in a tree.

Always synchronize the structure of the archives - If this option is not checked, either the size or the date of modification of an archive must have changed for the scanning of the disk structure to occur.

Always update the descriptions - If this option is not checked, either the size or the date of a file must change for the re-creation of descriptions to occur.
If you have inserted another disk by mistake, you will be informed about it: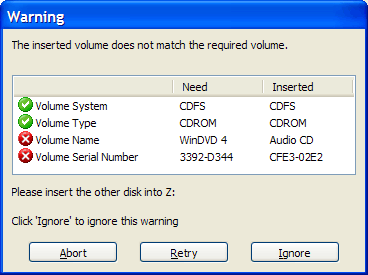 If you have not saved since the
Synchronize
operation, you can restore the old database by taking advantage of the operation "Revert":
File|Revert
.
Go Home